Random nickname generator for Pubg
Create good names for Pubg – ꧁༺Ꮙℐℙ☠ℙℋᎽᎾℰℒᎯᎽ༻꧂,M͆͜͡R͆๛R͆O͆L͆E͆X͆S͆I͆R͆,h,M U A D H,╰‿╯ⓈⒺⓉⒽ╰‿╯, in games, profiles, brands or social networks. Submit your funny nicknames and cool gamertags and copy the best from the list
I'm Pubg

117
I know Pubg

41
Pubg is Boy

174
Pubg is Girl

45
Pubg mobile name special characters is available here. All of the tags listed here have been personally filtered by our staff ensuring their qualities. The thing about PUBG names is people do not put brain efforts while choosing one. Its as important as choosing your social media username.
Nicknames for Pubg. Add your names, share with friends. Click to copy.
This tool spits out distinctively eccentric versions of every word you feed it. The stylish generator will provide you with style such bizarre that it will take more than a special keypad to copy them.
Pubg mobile nickname
Being approachable is a trait that adds to overall pleasure in gaming. People who appear to be reserved, generally don't make it much in team play.
Which is why, we suggest you add a pinch or whole bunch of humor to your tag in order to make it easier for others to connect to you.
Pubg mobile name special characters
You can either go sneaky by selecting subtle funny words or you can saturate it with Funny Pubg nickname to express your exaggerated personality to others.
Unicode™ is a registered trademark of Unicode, Inc. This site is not associated with Unicode, Inc. More info at The Unicode Consortium website.
It needs to be short and meaningful in one way or another. I'm not saying that the choices are limited to a dictionary or any other specific list of words. What I mean is even if the name is gibberish, I should sound meaningful.
You can either try answering that or use one of these Cool nickname which are carefully made by people who did all the thinking. Each and every one of them represents perfectly balanced style; which is all you will be needing Nickname Generator.
In this article it is not possible to list the entire list of the most complete Symbols and characters for you. You can see all of these characters below the Banner "List Symbols Full".
Tips symbols for pubg mobile
Symbols for pubg name should be less than 12 characters.
The game name does not put spam name, sensitive characters.
If you create a warning PUBG name, use the following characters. (Highlight text copy and paste).
ッ 彡 々 乛 乄 īlī ム × ॐ Ł ٭ ・ 「」 卍 文 《 》 爪 ʚ 乇 ๛ 气 Ð 个 연 シ 乙 私 乡 私 の 王 女 丶ズ 刁 Ø ジ ɧ く 乇 ゞ 『 』 ๖ ム 乇 ūōōōō.
Best name for pubg
People with good names often add their past experiences in the tags, which makes it sound more genuine and usable. The key to decide a good PUBG nickname special characters is to put as much thought behind as you do in any other important activity in your lives. You can simply scroll up to "Top 50 PUBG Name" and select any one of the names you like from bellow and make it your very own.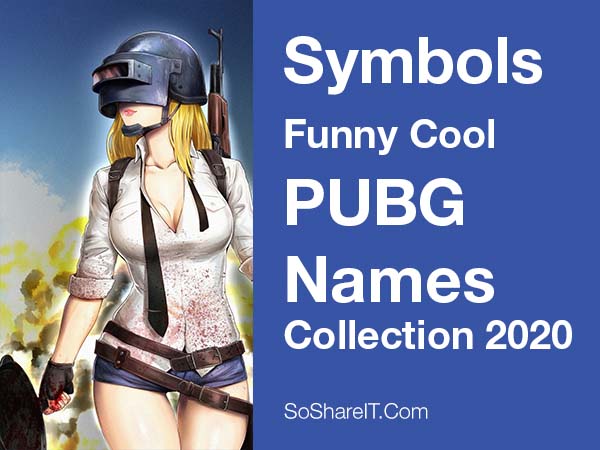 So, guys these are some Pubg hot name we hope that you liked this PUBG nickname special characters if you did then please do not forget to share this article as much as you can with your friends So they can also use Best name on their Profile.
If you have any suggestion regarding this article then please comment down below. SoShareIT.Com tried my best to share all kind of pubg special characters if i missed any type of name then please feel free to know in the comment box i will add that category names collection on this post within an hour.
All the names mentioned here are carefully crafted after a lot of thinking went into them. If you have any good PUBG nickname special characters in your mind, we strongly suggest that you share them with us in the comments bellow. Also, make sure to put your actual name in the box as we will be featuring the names of those who manages to come up with the best of names. So, Your username along with your actual name will get featured here.
PlayerUnknown's Battlegrounds (PUBG) is an online multiplayer battle royale game developed and published by PUBG Corporation, a subsidiary of South Korean video game company Bluehole. The game is based on previous mods that were created by Brendan "PlayerUnknown" Greene for other games, inspired by the 2000 Japanese film Battle Royale, and expanded into a standalone game under Greene's creative direction.
Comments